Anxiety disorders are one of the primary mental health problems affecting children and adolescents today. Given the wide range of stressors associated with growing up, it is important that our children have appropriate skills for coping with anxiety and other difficult emotions.

The Child Anxiety Network is designed to provide thorough, user-friendly information about child anxiety. It is also designed to provide direction for those who are not sure where to turn when they think their child or a child they know may need professional help to cope with anxiety.
---
Now Available!
Dr. Pincus' New Book to be released August 2012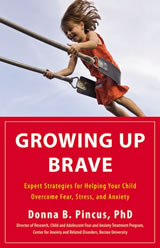 The "I Can Relax!" CD will help your child develop the skills they need to learn to relax during times of stress.
Could your child use some help...
relaxing at bedtime
before tests or exams
before dentist or hospital visits
before stressful medical procedures
We are happy to ship orders anywhere in the world!




Dr. Donna B. Pincus speaks with Dr Timothy Johnson on ABC News regarding The Anxiety of a Hoax; Do children suffer increased anxiety when asked to lie?

"

Dr. Donna B. Pincus speaks with Dr. Timothy Johnson on ABC News regarding Extreme Child Phobias

Dr. Donna B. Pincus Treating Panic Disorder with a Teen on ABC Good Morning America

Dealing with a shy child Donna B. Pincus talks with "Today" show host Matt Lauer about how to raise a shy child (click on the free video link on the right side of the page).

When Anxiety Strikes: Children Gain Freedom from Fear at BU Center

Helping Children Cope with Terrorism

Virtual Reality for Fear of Flying

Parent-Child Interaction Therapy
NEW! Coping Cards for Kids
Looking for an effective new tool for helping your child cope with stress and anxiety?
Coping cards have been used with children to help them learn ways of talking positively to themselves during stressful situations.