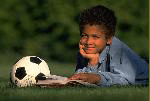 It's easy to tell your children "Just relax and stop worrying so much!", but this is rarely effective in reducing their feelings of stress and anxiety. Relaxation strategies such as progressive muscle relaxation and visual imagery have been shown to be extremely effective treatment components for child anxiety, and also can be great general stress reducers for children.
Does your child get stressed before bedtime?
Could your child use some help with managing anger?
Does your child get nervous before exams at school?
Could your child use some help relaxing?
Almost any child can benefit from having the skill of relaxation. Now your child can experience a guided relaxation training session, and will learn specific relaxation skills that he or she can use anywhere. Written by Dr. Donna Pincus, author of Growing Up Brave and creator of The Child Anxiety Network, the "I Can Relax!" CD focuses on teaching children relaxation skills while also promoting positive self-image. The I Can Relax! CD features the voice of Dr. Pincus along with music and sound effects. The I Can Relax! CD is appropriate for children ages 4 to 12.
How to Order:
Download your CD from iTunes and have it ready to play at any time
Purchase your CD on Amazon
---
Copyright © 2001 The Child Anxiety Network. All Rights Reserved.
Sponsored by Psychzone Inc.