**JUST RELEASED **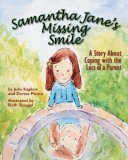 Samantha Janes Missing Smile: A Story About Coping With the Loss of a Parent

by Julie Kaplow, Ph.D., & Donna Pincus, Ph.D.
This book is a winner of the 2007 iParenting Media Awards a program that provides objective and credible method of determining the best products in the marketplace.

The Bouncing Worry Ball and the Mighty Mitt
By Leslie Brody, PhD
In this clear, engaging, and informative book, children with allergies and anxieties can learn how to face their fears by using cognitive-behavioral and mindfulness techniques.

Don't Pop Your Cork on Mondays: The Children's Anti-stress Book.
Moser, A. (1988) Landmark Editions *A children's book about the causes and effects of stress. Humorous illustrations help kids learn to recognize stress and use simple techniques to deal with it.

A Boy and a Bear: The Children's Relaxation Book.
Lite (1996)

Wemberly Worried
Henkes (2000) A perfect book for children who have a variety of worries. Wemberly learns not to let worries interfere in his life.

Mama, Don't Go!
Wells & Wheeler (2001)


The Good-Bye Book
Viorst (1982)

My Mama Says There Aren't Any Zombies, Ghosts, Vampires, Creatures, Demons, Monsters, Fiends, Goblins or Things
Viorst (1987)


The Giving Tree
Silverstein (1986) A book about endless giving and love.

The Velveteen Rabbit
Bianco, Williams, & Nicholson (1958) A classic tale since 1922, and a favorite for parents and children of all ages.

Harold and the Purple Crayon
Johnson (1981) A inspiring book about the endless limits of a child's imagination.



Alexander and the Terrible, Horrible, No Good, Very bad Day.
Viorst & Cruz (1987)



Where the Wild Things Are
Sendak (1988)

Goodnight Moon
Brown & Hurd (1991)



Tell Me Something Happy Before I Go to Sleep.
Dunbar & Gliori (1998)


Night Light : A Story for Children Afraid of the Dark.
Dutro & Boyle (1991)



Love You Forever
McGraw (1988) A book about love that is passed on through generations.


Guess How Much I Love You
McBratney & Jeram (1996)



Stellaluna
Jannell Cannon (1993)
This is an award winning book with underlying messages in it about place, acceptance, home and family.
Fears, Doubts, Blues, and Pouts: Stories of Handling Fear, Worry, Sadness and Anger
H. Norman Wright (1999)
I'm Scared (Dealing With Feelings)
Crary & Whitney (1996)
The Brand New Kid
Katie Couric (2000)
Where Do Balloons Go?
Curtis & Cornell (2000)

---


OCD in Children and Adolescents: A Cognitive-Behavioral Treatment Manual.
March, J. S., & Mulle, K. (1998)
Freeing Your Child from Obsessive Compulsive Disorder: A Powerful, Practical Program for Parents of Children and Adolescents
Tamar E. Chansky Ph.D. (2001)

SOS : Help for Parents: A Practical Guide for Handling Common Everyday Behavior Problems.
Clark, L. (1996) Parents Press


Good Friends Are Hard to Find : Help Your Child Find, make and Keep Friends.
Frankel, F. H. & Wetmore, B. (1996)

Get Out of My Life, But First Could You Take Me and Cheryl to the Mall.
Wolf, W. E. (2002)
*Uses a humorous approach to teach parents to understand and cope with teenagers.

Helping Your Anxious Child : A Step-by-Step Guide for Parents.
Rapee (2000)
Anxiety Disorders in Children and Adolescents. March, J. S. (1995)
Ready, Set, Relax: A Research-Based Program of Relaxation, Learning and Self Esteem for Children
Jeffery Allen & Roger Klein (1997)
Don't Sweat The Small Stuff For Teens
Richard Carlson (2000)
Field Guide to the American Teenager: A Parent's Companion
Joseph Di Prisco & Michael Riera (2001)
Your Anxious Child: How Parents and Teachers Can Relieve Anxiety in Children
John Dacey (2000)
Children's Stress and Coping: A Family Perspective (Perspectives on Marriage and the Family).
Sorenson, E. S. (1993) *Provides a perspective on how children deal with stress and how parents and clinicians can teach them effective coping strategies.

---

Mayo Clinic Family Health Book: The Ultimate Home Medical Reference
David Larson & Robert Waller (1996)
Harvard Medical School Family Health Guide
Anthony Komaroff (1999)
Healthy Kids: Help Them Eat Smart and Stay Active for Life!
Marilu Henner (2001)
Solve Your Child's Sleep Problems
Richard Feber (1986)
What to Expect When You're Expecting
Arlene Eisenberg et al (1996
The Children's Hospital Guide to Your Child's Health and Development
Alan Woolf et al (2001)
Your Child's Health : The Parents' Guide to Symptoms, Emergencies, Common Illnesses, Behavior and School Problems
Barton Schmitt (1991)